WELCOME TO OUR LABELS ON SHEETS & LABEL EXPRESS WEBSITE

Simply click on one of the two panels below to locate the product(s) to suit your immediate needs.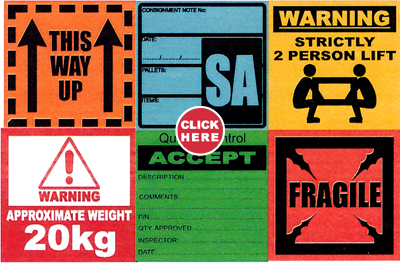 EASY ONLINE ACCESS
We strongly value our online customers and have invested in systems designed to make your online shopping experience as pleasant, secure and efficient as possible. In the event of temporary accessibility problems, do not hesitate to make contact by phone, email or fax.
Labels On Sheets
We offer an extremely comprehensive range of BLANK LABELS on A4 SHEETS. Construct your labeling requirements from a large selection of sizes, shapes, materials, colours, & adhesive grades. Our client base includes individuals, small businesses, multi-national companies, & State & Commonwealth Government departments. SIMPLY CLICK ON THE APPROPRIATE BOX ABOVE.

Label Express
Our LABEL EXPRESS range consists of a very comprehensive selection of pre-printed Commercial & Industrial ADVISORY LABELS for Weight Warning, Freight Destination, Waterproof Labels, Address craft labels, Quality Control & Carton Handling etc. These labels ensure your cartons & packages are transported with absolute care.  SIMPLY CLICK ON THE APPROPRIATE BOX ABOVE